Pakistan to nominate ICC president next year: Najam Sethi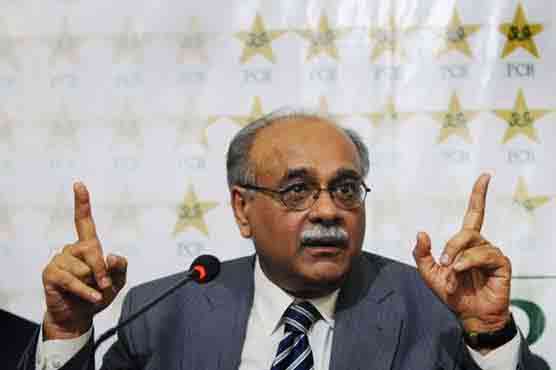 Pakistan Cricket Board (PCB) Chairman Najam Sethi has said Pakistan would nominate president of International Cricket Council (ICC) next year.
Addressing a press conference here on Friday, Najam Sethi said that it came to his knowledge on February 8 that Bangladesh was among four other countries to have accepted proposal of 'Big 3'. He said that the four cricket boards had accepted 'Big 3'proposal while Pakistan was the only opposition against the nine members who supported it.
He said PCB put forward its legal position and did what was necessary to end Pakistan's isolation from international cricket.
Najam Sethi said that all matters were discussed with all members of ICC in detail. He said the Pak-India series would restore soon and PCB would be able to generate Rs 30 billion in revenue during next eight years. He also said that bringing back international cricket in Pakistan is board's first priority.
He reiterated that PCB had requested ICC to allow Pakistan to appoint ICC's next president.
Briefing the newsmen about the ban on Muhammad Amir, The PCB chairman said that the issue was raised before
ICC, adding that ICC authorities will be invited in Pakistan in June this year.
He hoped that Muhamad Amir's sentence would be relaxed by one-year from a total of five-year cricket ban.
Pakistan's conditional support to 'Big 3'
It merits mentioning here that PCB had announced conditional support to the Big 3 of the International Cricket Council (ICC).
PCB chairman Najam Sethi said earlier that the decision of supporting Big 3 of ICC would help revive international cricket in Pakistan. He said that matters have been finalised with all members including India.
Najam Sethi further said that the PCB set conditionality of playing bilateral series with each country during 2015 to 2023.
He said that the condition of reviving international in Pakistan has been ensured.
Pakistan was initially one of three countries that opposed the revamp of the International Cricket Council (ICC) approved by members in February.
The move handed the majority of the powers and revenues to the "big three" of the game -- India, Australia and England.
Pakistan and Sri Lanka abstained from voting on the reforms, but since then Sri Lanka have hinted they will sign the draft.