Afridi vents anger over ex-cricketers' remarks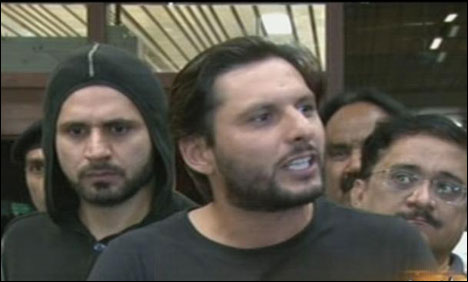 Pakistan's flamboyant all-rounder Shahid Khan Afridi, who continues to invite criticism due to his terrible batting form, fired verbal salvo at former cricketers for their comments on media, terming three of them as Hackle, Jackle and Mr Bean.

Afridi, who is considered by many as media darling, had nothing more to offer about his performance, said those who were criticizing the players for grouping in the team were part of groups and many had seen their discipline too.

He also requested media not to invite such cricketers for comments on team's performance as they also talk negatively.

Lauding the green-shirts for their maiden victory against South Africa, he said that Pakistan should also have won the series in UK.

Afridi said that newcomers like Anwar Ali and Bilawal Bhatti played well but it would be premature to compare them with senior cricketers like Razaq and Azhar Mehmood. He said that teams needed to be supported and encouraged in difficult times.