Urea prices reduced to Rs.1786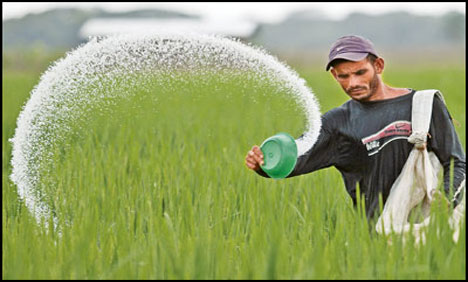 The government and fertilizer companies Friday reached an agreement to reduce the price of urea from Rs 1900 per bag to Rs 1786 per bag with immediate effect.

The agreement was reached after a successful four hour meeting held at finance ministry between the government and representatives of the fertilizer companies.

Finance Minister Senator Mohammad Ishaq Dar was representing the government, said a statement issued by the ministry adding he was assisted by Federal Minister for National Food Security and Research Sikandar Bosan and Federal Minister for Petroleum and National Resources Shahid Khaqaan Abbasi.

It was also decided that fertilizer companies will print the prices of urea on the bags with effect from March 1 2014.

It would be pertinent to mention here that the fertilizer companies had increased the prices of urea on January 1 2014 and Economic Coordination Committee (ECC) had taken notice in its meeting held on Wednesday January 8 2014.

Prime Minister Nawaz Sharif had issued directions that fertilizer companies should be engaged to protect the interest of farmers.