Democratic regime transfers, appoints 62 officials before departure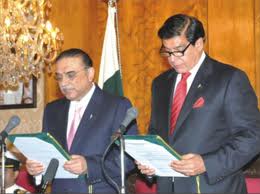 The democratic regime has transferred and appointed 62 officials before its departure after completion of tenure.
According to a NGO, FAFIN, departing regime transferred or appointed 62 key officials during last days of term and most of these were done in Sindh province.A report of the said NGO describes that 15 officers have been replaced in Khyber Pakhtunkhwa, 7 in Punjab, 2 in Balochistan and 38 in Sindh. Most of the transfers are done in police department, local administration, and sub-courts.he ending regime transferred 18 SHOs in Sindh as well. Total 42 transfers and appointments were done in Sindh province, informs the report.