Musharraf submits plea in SHC for removal of name from ECL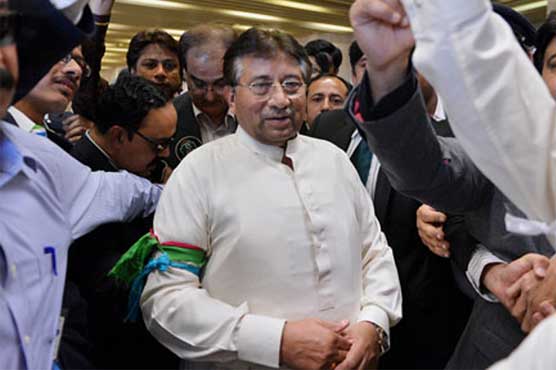 Embattled former military dictator General Pervez Musharraf has submitted a petition in the Sindh High Court (SHC) seeking permission to go abroad for treatment and meet his 95-year-old ailing mother in the UAE, Dunya News reported on Monday.

The plea was submitted by Barrister Farogh Naseem on behalf of the former president.

On March 31, after Musharraf's indictment and a subsequent order of the special court that it has no jurisdiction to decide on his name being taken off the ECL, his lawyer had filed an application with the government.

The application was rejected by the govenment on April 3, 2014 and Minister for Information and Broadcasting Pervaiz Rashid had said in the National Assembly that the government was willing to fly Musharraf's ailing mother home from Sharjah, an offer that has been made in the past and rejected by the former president.



MUSHARRAF VISITS KARACHI



The former military ruler arrived in Karachi on Saturday for a 'short visit' during which he will be staying with his daughter besides undergoing certain medical checks at PNS Shifa hospital.

During his stay, Musharraf is expected to meet family, friends and his party All Pakistan Muslim League (APML) officebearers.

The former president was admitted to Armed Forces Institute of Cardiology (AFIC) on January 2 when he complained of heart problems on his way to a special court set up for his high treason trial for abrogating the constitution and detaining judges in 2007.

He returned to Pakistan last from exile before the May general election but since then he has been based in either Rawalpindi or Islamabad.

His name is currently on interior ministry's exit control list and he cannot leave Pakistan but is allowed to travel within the country.